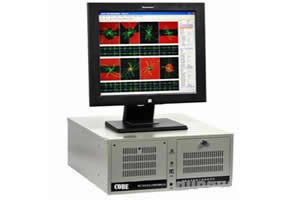 Application:
The multi-frequency eddy current test instrument is produced with the most advanced digitial inspection technology, multi-frequency eddy current technology, remote field eddy current technology, and microprocessor technology to detect any internal and external wall defects in metal pipe components.
It can be specifically used for automatic system flaw detection of various non-ferrous metal, ferrous metal pipe, stick, wire, plate for flaw detection of seamless processes, weld processes, and internal thread processes of different shapes.
Parameters
Detection channel: 1~4
Filter coefficient: 0-1000
Interference coefficient: 0-500
Gain range: 0~99.0 dB continuously adjustable, stepping: 0.1 dB
Compensation gain: 0~99.0 dB continuously adjustable, stepping: 0.1 dB
Gain ratio: (X/Y)0.1~10.0
Phase rotation: 0~359° continuously adjustable, stepping: 1 deg
Frequency range: 10 Hz~10 MHz
Probe sensing mode: absolute and differential
Adjustable probe drive (stimulus) level: 1~16
Digital filtering: low-pass frequency (0Hz ~ 2000Hz), high-pass frequency (0Hz ~ 2000Hz)
Data source: amplitude, X coordinate, Y coordinate
Sensor declination: 0-300
Incentive mode: DP, DI
Auto balance: off, 1-10 level
Delayed marking: 1-100,000ms
Time of auto balance: 1-10 level
Case: IPC-610P4-25LCE CPU: E3400
Hard disk: Western Digital 320G Internal storage: 1G CD driver: SONY DUD 17 inches LCD monitor
Power supply: 220V(-20% ~ +20%) Power consumption: 500W.
Functions:
The multi-frequency eddy current test instrument has the following functions:
1. Terminal time delay: 0-3000ms
2. Software alarm, hardware alarm, hardware pre-alarm
3. Rapid digital/analog electrical equilibrium
4. Alarm range set of unequal amplitude, asymmetric phase
5. Sound and light alarm output
6. Internal clock, low level trigger, high level trigger
7. Automatic calculation of testing length
8. Terminal signal cutting
9. Large storage of various detection procedures and testing data
10. Playback and expanding function of eddy current signal such as amplitude, phase, and values of the defects detected.
11. It can automatically record and show the number and position of defects.
12. It can form a detection report including information such as test amount, acceptance number and the number of disqualified units.
13. Wake blanking: full line, hidden line
14. Optional operating language: Chinese and English Online help
15. Optional background: Cartesian coordinate system and polar coordinate system
16. Automatic calendar, time display.
What we offer
1. Full digital system design
2. Professional testing solutions
3. Automatic testing with high precision and high speed
4. There are optional high precision delayed marking electronic modules: magnetic saturator, marking machine which is easy to use and probe frame in order to realize online automatic eddy current flaw detection.
5. Professional eddy current analysis software with great data-handling capacity
6. The testing report can be generated and saved automatically.
Other products